In 2022, during the war in Ukraine, we contributed as donors to a two-month project for the School for Ukrainian Children in Warsaw. The school, created by XYstudio in partnership with Magda Garncarek, includes 11 classrooms accommodating 300 students. The office building was adapted to accommodate two psychological offices, administrative rooms, common areas, and rest areas. The school was a grassroots initiative, with the participation of many companies and volunteers. We helped by providing recycled furniture such as poufs, chairs, and tables, using colorful leftover fabrics and components from previous orders that would have otherwise gone to waste. The school is not only pupil-friendly, but also environmentally friendly.
To celebrate the school's second year of operation, we conducted an interview with Dorota Śibińska, an architect from XYstudio, and Magda Garncarek, the founder of Open Schools.

Dorota Sibińska
Graduate of the Faculty of Architecture and Urban Planning at the Warsaw University of Technology. Since 2004, together with M. Nowosielska and F. Domaszczyński, she has been running a design studio called XYstudio specialising in designing facilities for children and youth. Winner of the 2015 Architectural Award of Polityka, the Grand Prix of the 2020 Architectural Award of Polityka, the 2015-2020 Life in Architecture competition, the Grand Prix of the Architectural Award of the Mayor of Warsaw as well as of the 'residents' favourite' title and of the 2019, 2020, 2021 accessibility leader title awarded by the Integration Foundation. XYstudio's projects have been nominated for the European Mies van der Rohe Prize. Taking first and foremost human needs into account, it promotes socially responsible architecture.

Magda Garncarek
Sociologist dealing with strategy, communication, and project management in the field of design and architecture. She believes these are great tools to affect the quality of our daily experience.
She initiated the "Otwieramy Szkoły" [EN: "We Open Schools"] campaign, which made it possible — thanks to the joint efforts of architects, businesses, and volunteers — to launch a school for 300 Ukrainian children in one of Warsaw's office buildings.
She wants to make the next edition of the project focus on the spaces of Polish schools — to make them foster the development of the competencies of the future (e.g. cooperation, creativity, critical thinking) and support local communities.
VANK: The school for Ukrainian children, set up in myhive's Mokotów Two office building right after the outbreak of war in Ukraine, won this year's Special Award of the SALON Magazine for setting new standards in socially engaged architecture, a special mention of the Association of Polish Architects, and the Architecture Award of the Mayor of Warsaw for the incorporation of pro-environmental solutions. This project was also considered the most important in 2023 by the citizens of the capital city of Poland.
In addition to adapting existing office space, what environmentally friendly measures did you employ as part of this project?
Dorota Sibińska: We went for re-use and zero waste in the first place. This was, of course, due to the lack of budget for this project, which became, quite paradoxically, the biggest advantage from our perspective. The situation forced us to try to organise the school without any funds, which resulted in an extensive search for alternative solutions. We decided that an existing building, one used as office premises, would be a great place to be repurposed into a school. Adult office workers or less adult students have similar needs. This was our starting point. During the pandemic, many offices switched to remote work, which resulted in a number of empty spaces.
Some companies — like VANK — supplied us with their end-of-line furniture products. Others, who just happened to be in the process of moving to new premises, donated their used furniture that was to be disposed of. This way, we ended up with the most miscellaneous furniture sets which we used to furnish each classroom. The hardest part was the furniture for younger children. We turned to existing educational institutions to ask them if they had any furniture to donate or lend. As a result, we put together the furniture sets for the classrooms for the youngest learners.
And it got only easier from there on. The floors were carpeted with materials from outdated sample books, the walls got covered with end-of-line wallpapers, acoustic materials, photo wallpapers, etc. In our design efforts we made it a priority to to interfere as little as possible with the existing spatial layout because each newly erected wall involved further costs, and each demolished wall meant extra waste, which we wanted to reduce. We had a small army of volunteers who invested their time to help us design, build, and deliver whatever was necessary. All pro bono, out of a desire to help others.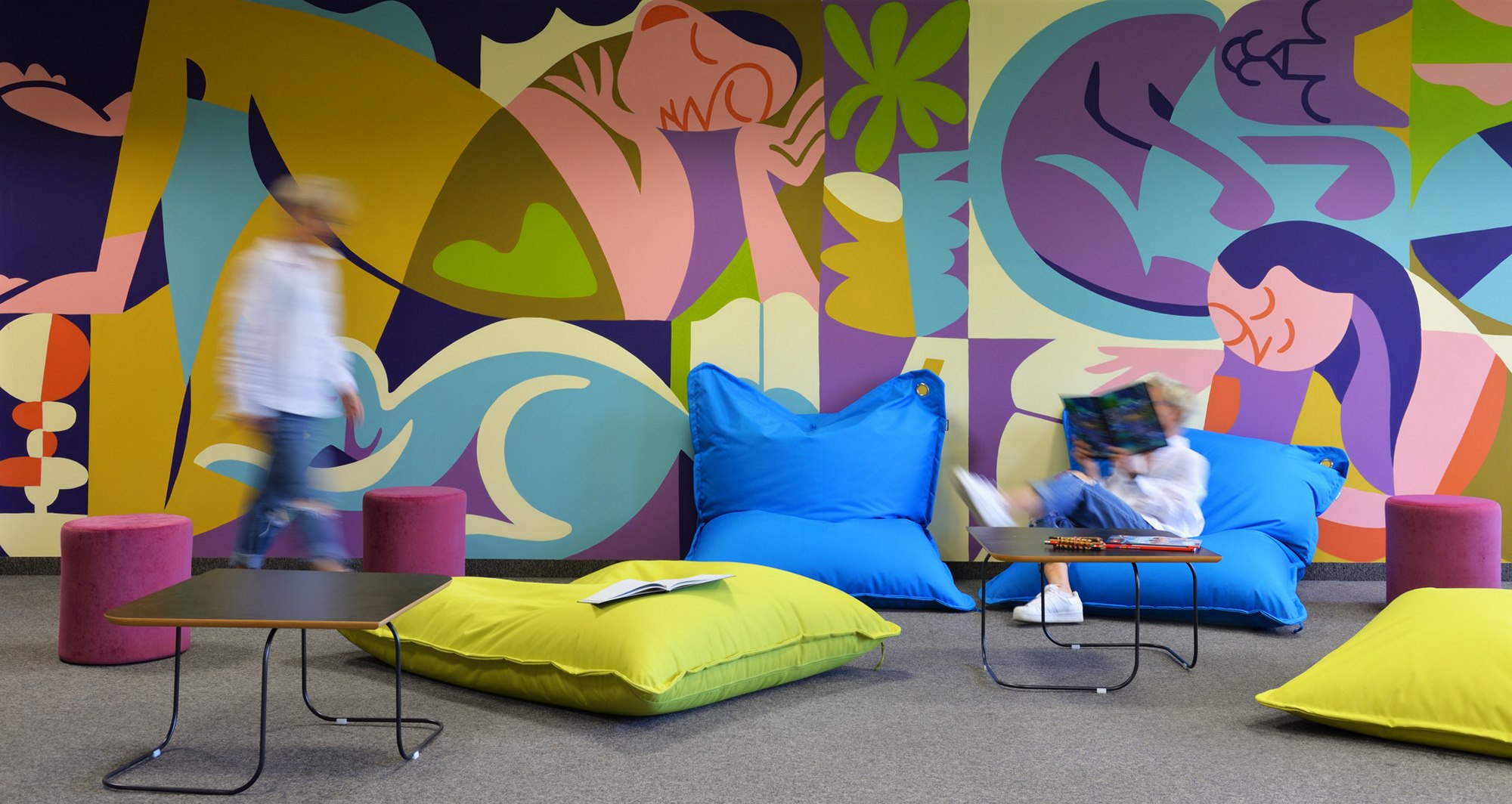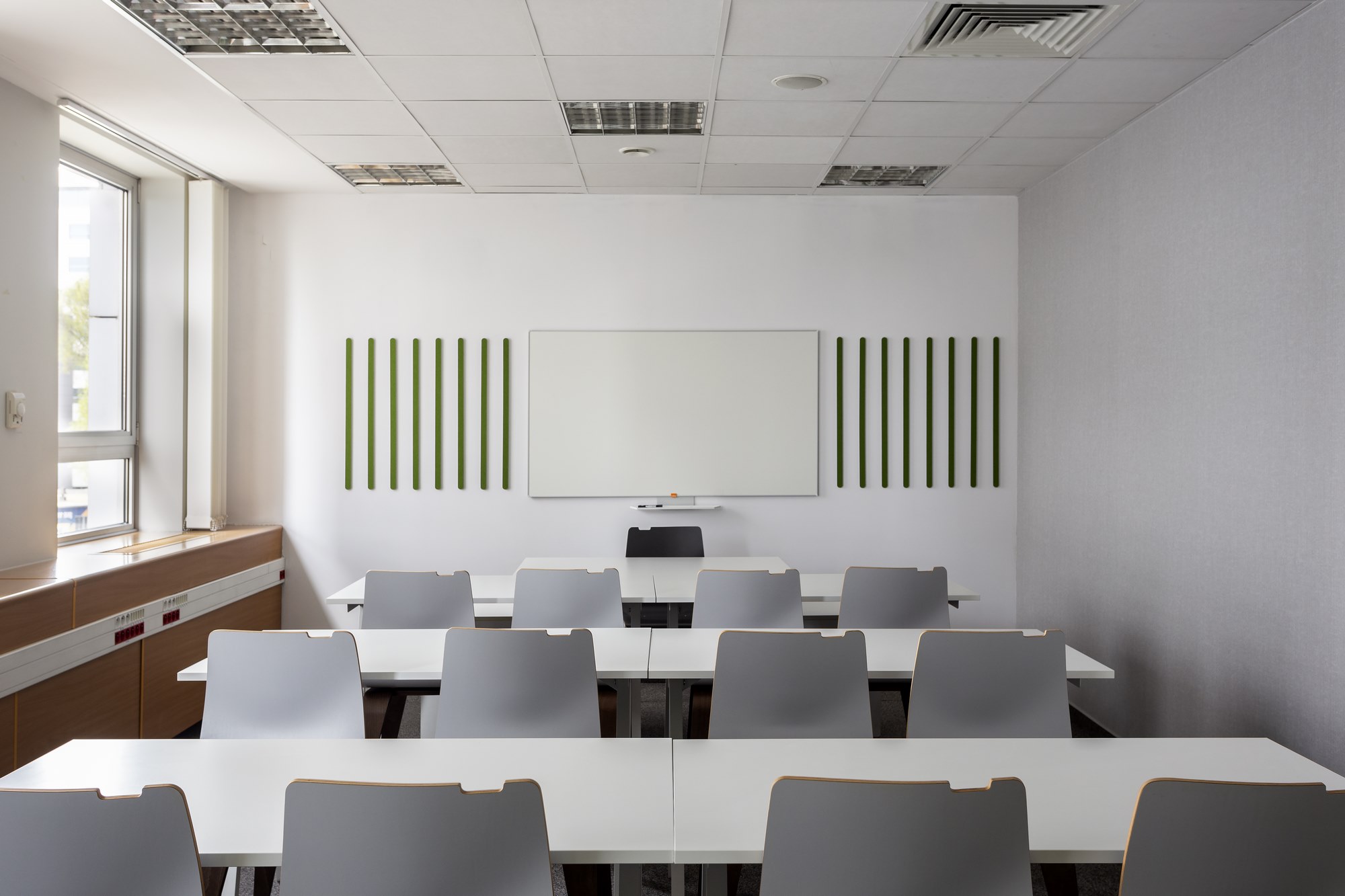 VANK: How do you approach the adoption of redundant resources or the re-use trend in architecture and interior design? Do you intend to make use of similar solutions in future projects?
D.S.: Our project received was very warmly received. Many people ask us to this day why it's so hard to furnish other facilities in this way. We realised that the amounts of furniture simply discarded of are vast and that there are no structured ways to give these products a second life. Especially since the furniture we are talking about is often 3-4 years old and in a very good shape. Today we know how to look for it. A lot of people ask whether such an approach can be applied to furnishing public facilities, but the answer will be disappointing — it can't. Second-hand products are not allowed in public procurement. Looks like it will takes years until appropriate procedures are established. Besides, if a tender for the "first furnishing" contained a provision that the furniture could be used products, I would be seriously concerned about the quality of this furniture and about how the contractors would get the relevant certificates and approvals based on which they can be approved for use by e.g. sanitary authorities. There's still a lot to be done, but the first steps in the right direction have been made.
VANK: You put a lot of emphasis on the variety of needs of young users in the project. What design solutions can be useful in the case of neurodiverse children? Did you zone the space using different types of furnishings?
D.S.: Precisely. Each one of us is different and has different needs. Office space designers have been long aware of this. They furnish luxurious spaces, tailored to users' needs, and commission sociological studies to support their design concepts. When it comes to interiors for the youngest users, little to no consideration is given to them, especially in public procurements, where quantity counts more than quality. Where the interior design is reduced to how different furnishing items are arranged, which is then the basis for preparing the table of initial furnishing items. This table contains verbal and parametric descriptions of everything that makes up the furnishings of a given facility. That's hundreds of pages of descriptions alone, often even without any reference photos. This is a difficult, time- and effort-consuming process. It requires the author to have an excellent spatial imagination and to know how to describe the product to achieve any harmony. And a procurement employee preparing a tender often unknowingly destroys the entire work of the designer by deleting just one line of text.
But coming back to neurodiversity, space zoning in educational facilities is a must. Provisions on space zoning tend to already appear in design guidelines and competition regulations. This issue has been recognised, and designers are starting to design more and more consciously.
But zoning is just the beginning as it is closely related to acoustic comfort, which is another issue that is often overlooked.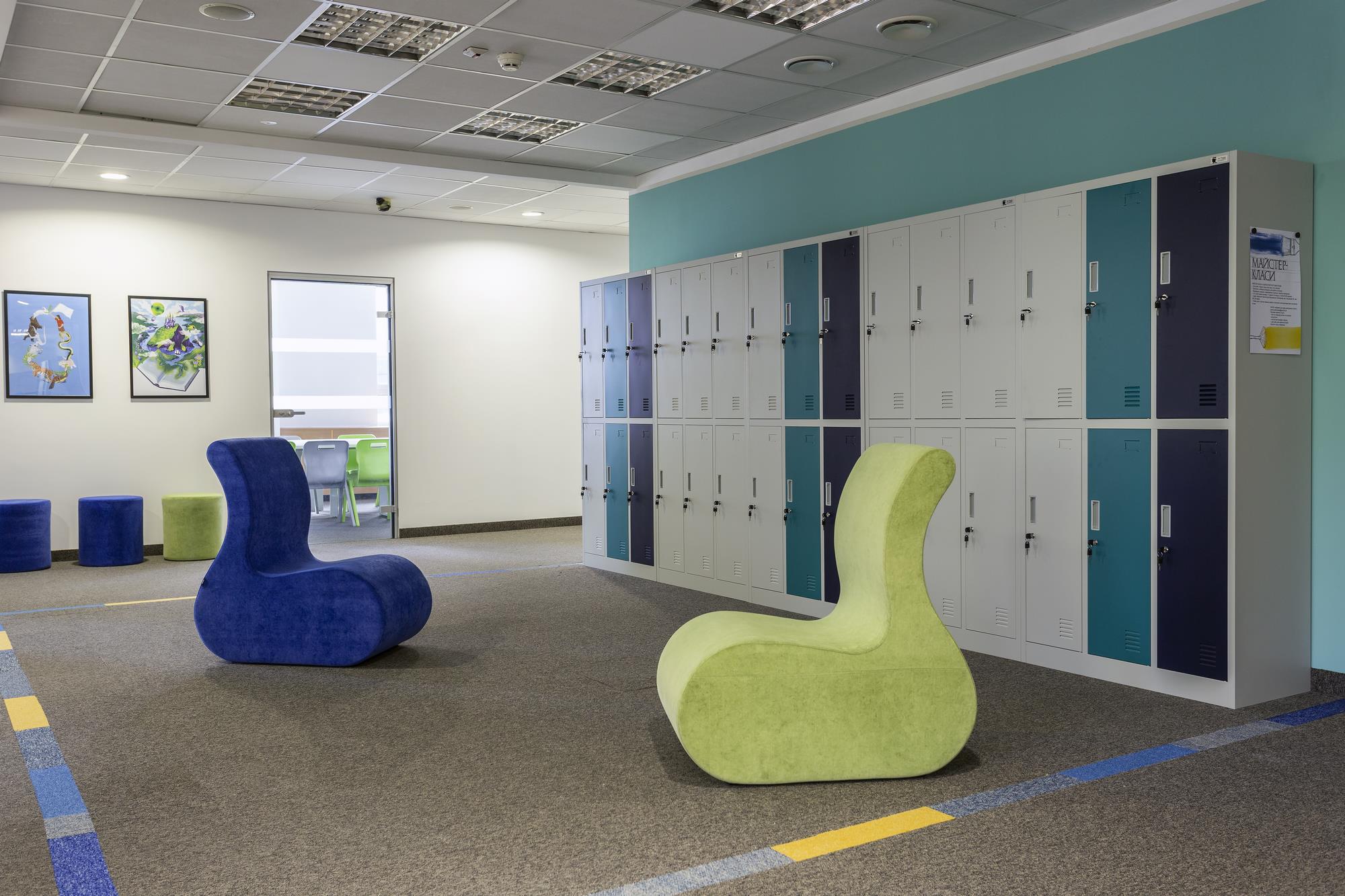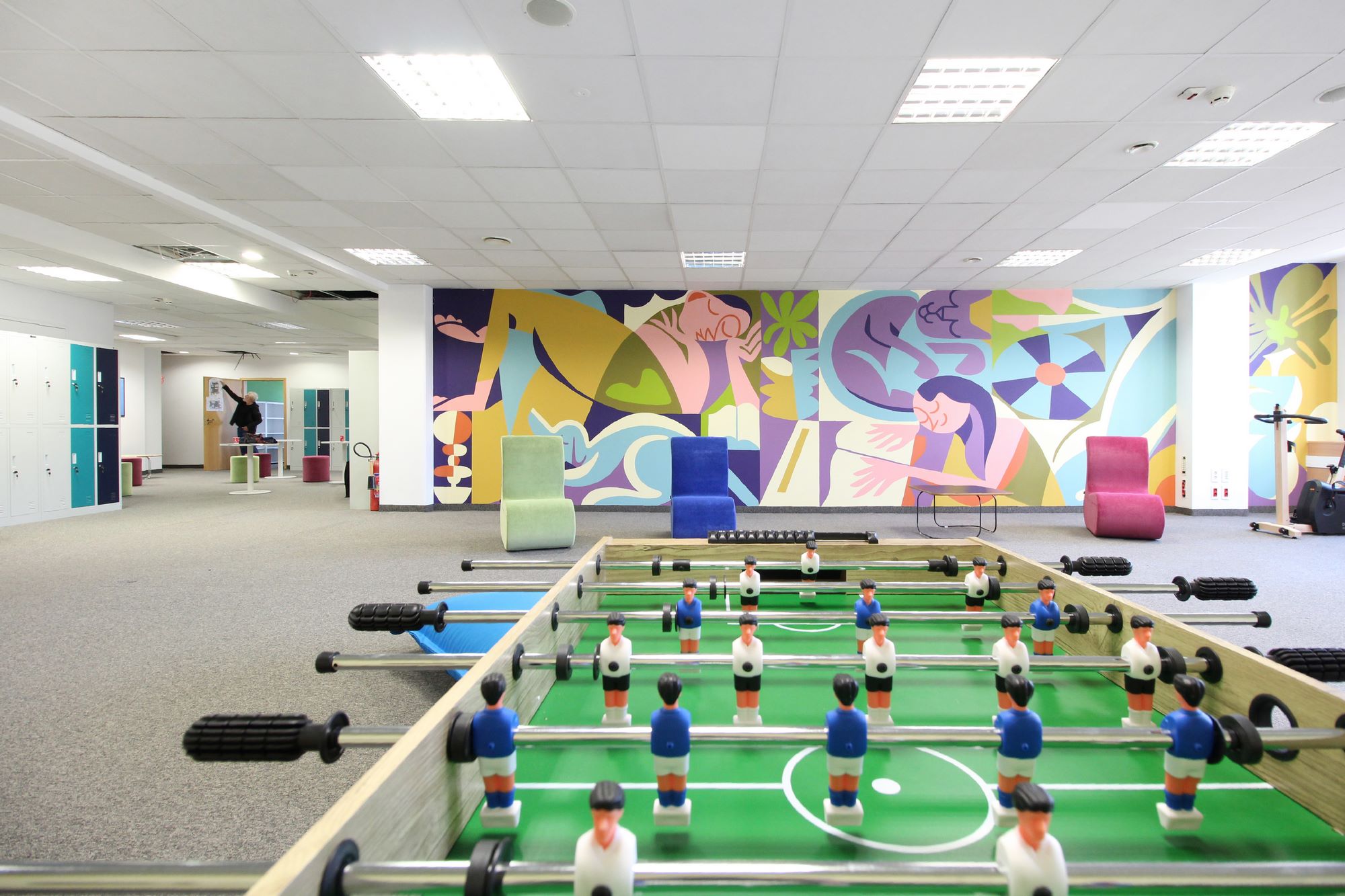 VANK: The school has also a psychologists' offices for Ukrainian children and their mothers, right? Can these spaces meet the needs of other users in the future?
D.S.: Of course. They are rooms for 2-3 people, soundproofed, with wallpapers on the walls and with soft, comfortable furniture. It can serve a variety of purposes.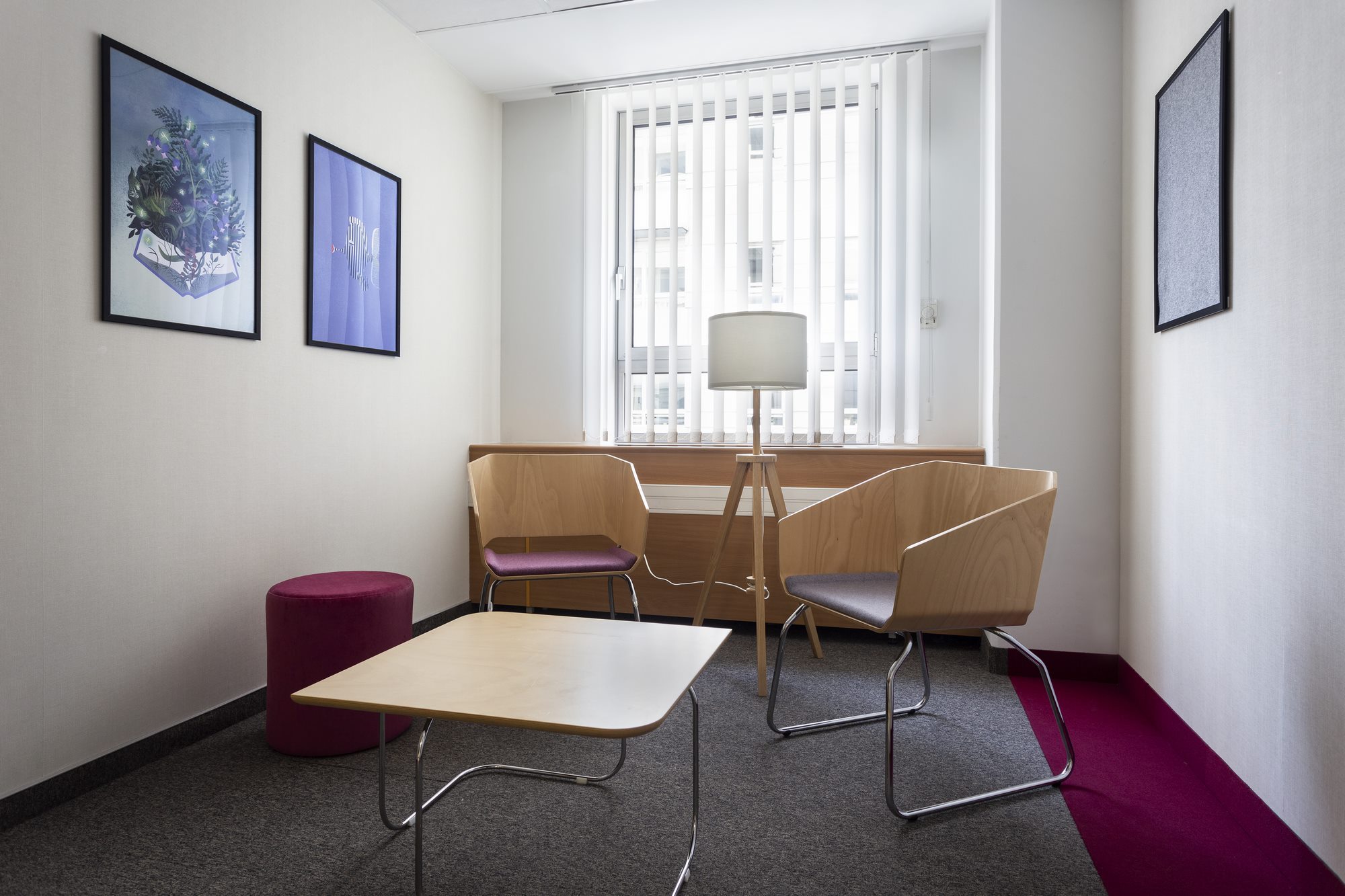 VANK: You're known for empathetic design, pro-social design, circular design, design for children. You did the School for Ukrainian Children project pro bono. This is the kind of mission that can be considered a design and community success. Do you have plans to support similar initiatives in the future? Perhaps for another investor or in other locations?
D.S.: We're always open to such proposals, but as designers running our own design studio, we must be able to afford it. Many institutions and foundations reach out to us for help, but we can't save the whole world. We have families, employees, and bills to pay. We need to make a living off something. My impression is that people don't always understand this. We need to have clients and commercial projects that give us the financial stability that would enable us to help more often. This is the sad truth. I dream of a foundation or a patronage that could let us engage more often in community, pro bono projects.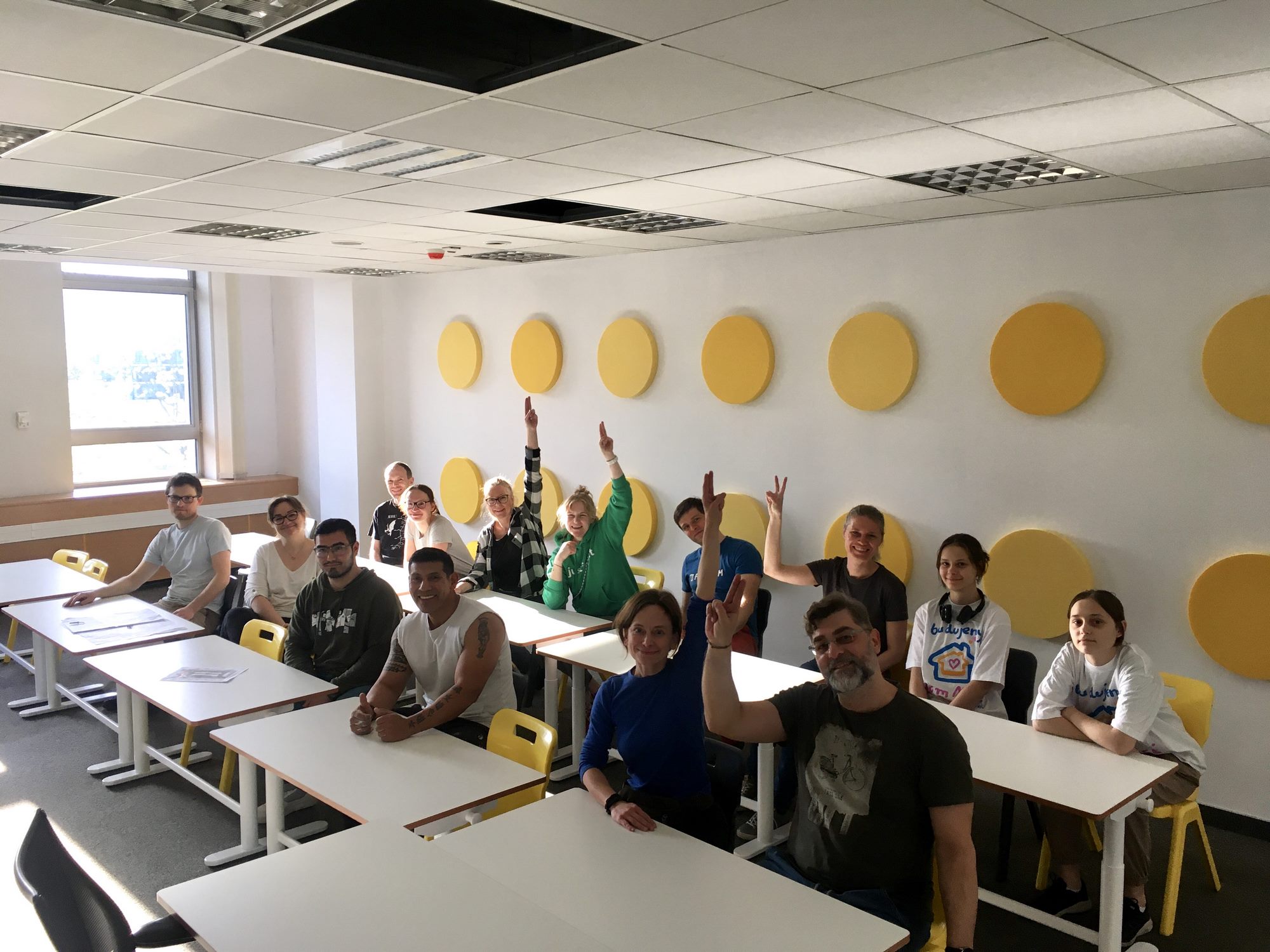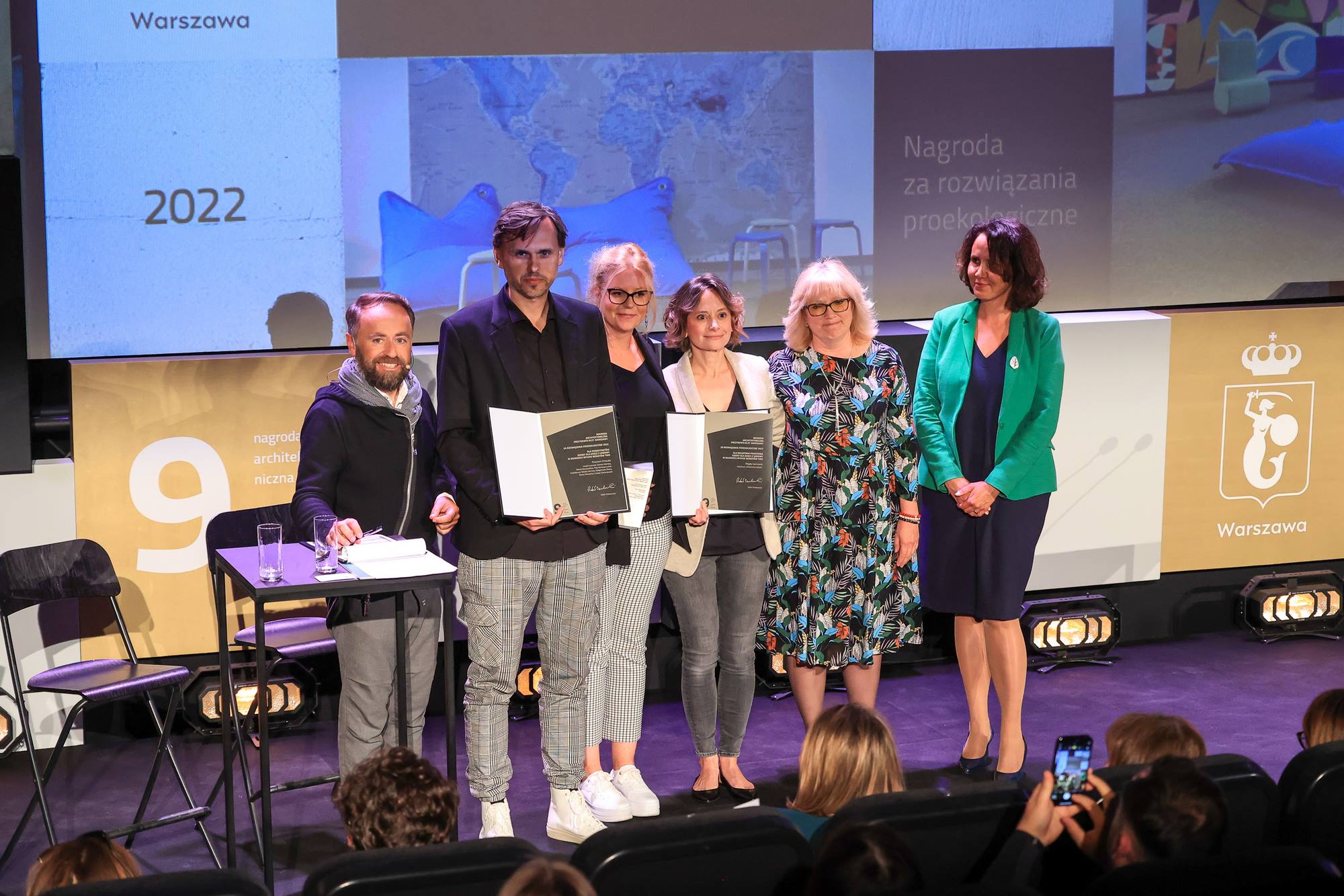 VANK: More than 200 volunteers, private businesses, donors, and interior design brands participated in the creation of the School for Ukrainian Children. How did you manage to contact them in such a short time and get them involved?
Magda Garncarek: True, the extent of involvement was surprising. I remember my astonishment when more and more volunteers joined us at the site. I must admit I even felt somewhat guilty about getting them to do such a demanding job. Meanwhile, the next day... they were back, bringing their families and friends along! At the end, they said that they were overjoyed to have been able to help and that they would cherish that experience for the rest of their lives.
We were driven by the conviction that we were doing something important and necessary. Turns out we managed to infect others with the idea. At that specific time, many people were wondering how to help the incoming refugees. I think our unusual idea for a school for Ukrainian children perfectly addressed this need to help and get involved.
From the very beginning, we made sure to communicate the right way in the media, including social media — this is where I come from professionally, so I knew it was a crucial aspect of the project. This gave the project good publicity and recognition, which made more people and companies join the initiative.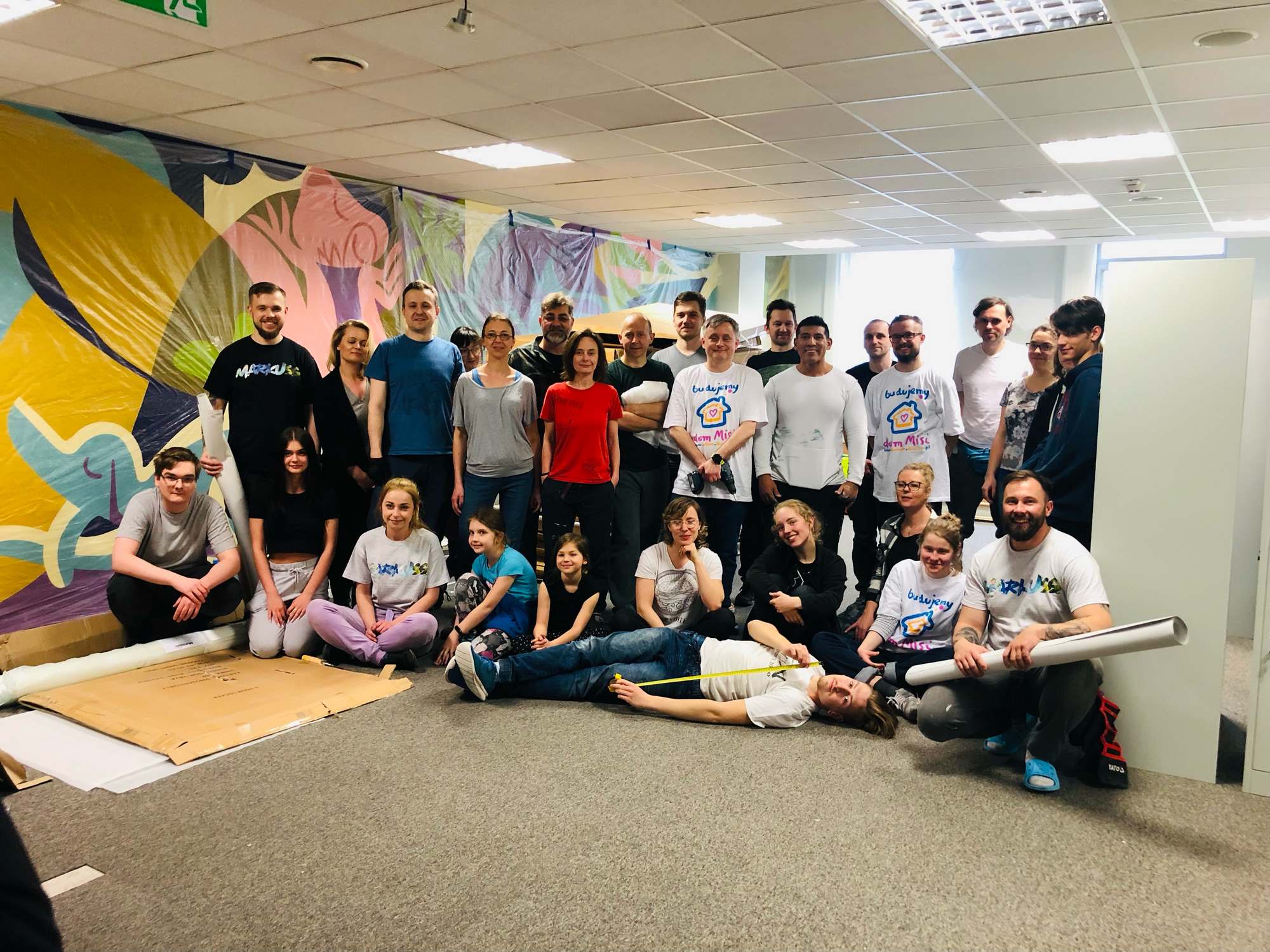 VANK: What could encourage organisations to engage in such projects? Meaning using recycled or surplus furniture and production waste? Could it be something more than intrinsic motivation?
M.G.: There is a saying: if there's a will, there's a way. If you really want to do something, you'll find a way. If you don't, you'll find an excuse. I always root for those who have the will. But individual motivation factors won't be enough to implement major solutions on a major scale — which is what we need if we actually want to reach a greater balance in how we manufacture and consume things.
That's why well-thought-out systemic solutions would surely come in handy. Then we could talk about engagement motivated not only by the fact that someone has the will, but primarily because that is — or should — be the standard of today. And in the face of the climate crisis we're dealing with, I have no doubt that it should.
During the setting up of the school for Ukrainian children we received new furniture from VANK (thank you!), but also used furniture (which was still in good condition) from companies that were about to move to new premises. It's hard to understand, but according to the regulations in force, the furnishings they left behind in their previous premises should be... disposed of. Looking at the scale of waste that the construction industry generates, such regulations seem out of touch with reality, to say the least.
Many schools would love to make use of obsolete office furniture. Unfortunately, as Dorota said, the public procurement procedures don't allow it. Sometimes schoolchildren's parent councils manage to get the necessary furniture in the form of hand-me-down products acquired thanks to someone's business connections, etc.
That's why, in addition to a major update to the regulations, I dream of a sort of publicly accessible marketplace that would facilitate the cooperation and exchange of information between schools and offices — to the benefit of both parties and, ultimately, the environment, which is just as important.
VANK: Thank you very much for the interview!